Glide Hair Tools New Value Range
Here they are after 1 year in the making, tried and tested by Hairdressers and we think we have the bomb!
At Glide we have a vision of what we want a product to be and this range was to be reasonably priced, have all the benefits of a good salon brush yet affordable for your clients to purchase.
When asking hairdressers what they wanted we came up with our Value Ceramic Range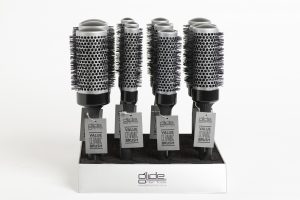 Available in 4 sizes with heat resistant nylon up to 285 degrees, these strong ceramic brushes hold heat evenly across the barrel. With anti-static properties and with the ability to emit negative ions this range is a must have salon work horse brush. The rubber grip handle was designed in one piece so hair doesn't catch- a big request by hairdressers!
They are also a fantastic brushes to retail and right now Glide HT wants you to take advantage of your busy season. We can help you to retail this range with a fantastic introductory deal.
Buy 12 Brushes receive 10% off, a complimentary brush stand and 1 sample brush for you to use in salon. Just go to our promotion section of the website or to find your nearest wholesaler at the wholesaler tab.