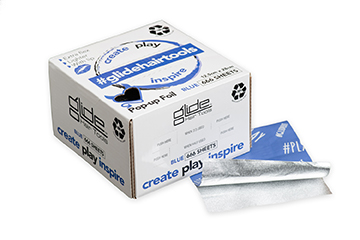 Unleash Your Creativity With Our Create, Play, Inspire Foiling Range
In March this year we launched our Create, Play, Inspire range. We created these foils with busy salons and single operators in mind, with every aspect of the foils and their boxes being carefully thought out to create the ultimate product that is an essential in every salon. We know how much creativity, time and skill goes into colouring hair, therefore we wanted to provide hairdressers with the best possible tools to help you show off your talents!
The first product in our range is our pop-up foil. This is a lighter foil with a lip and extra flex, as well as an embossed pattern to help you easily grip the hair. One of the best parts about the foil is its pop-up box, where the base moves up as you take out sheets of foil, making it hassle free!
The creativity continued when we launched our blue devil 666 pop-up foil. We always love to give our clients more for less, so each box comes with 666 sheets of foil. In a beautiful cornflower blue the foil is covered in hashtags, adding some fun for the hairdresser, and looking amazing in a full head of hair! The foil is embossed and has a great lip, also coming in our brilliant pop-up box.
The final addition to our Create, Play, Inspire range for 2020 is our wide pre-cut foil. We have spent two years perfecting the foil to make sure it has everything you need to create the perfect look for your clients. With an orange peel effect it has extra grip and flex and a great lip, with a box that makes it easy to pull and go for busy salons coming up to Christmas time.
These foils have quickly become a market leader and we hope you love them as much as we do! Get out there and show off your creativity!
#create #play #inspire
wait until you see what's coming in 2021………….