Glide has just launched their New 1/2 & 1/2 Cape to great reviews from the hairdressers.
This cape has al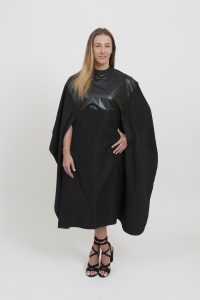 l the bells and whistles, starting with slits for arms for the client so working or using their phone while having a service is possible, knowing that their clothes are still totally protected.
Glide's ultimate Stretch Neck allows for a vacuum seel that totally protects the client from wet neck lines. The top section of this cape is 100% chemical proof and the bottom 1/2 is a light cutting cape material that allows for a comfortable experience.
This really is the Ultimate Salon Cape, with over a year in the pipeline we are really happy to be able to bring it into reality! Enjoy
Cheers
Remo & Joe